Thư viện (2F)
Băng video và các loại tài liệu khác luôn sẵn sàng phục vụ và đáp ứng nhu cầu mở rộng kiến thức về thế giới của bạn.
Thư viện phim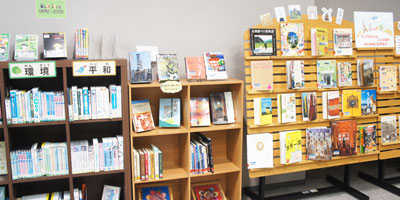 Tại Thư viện phim, bạn có thể đọc/mượn sách và xem các băng video nói về kiến thức thế giới, các vấn đề toàn cầu và hợp tác quốc tế. Điện thoại: 045-896-2976
Mở cửa
9:00 sáng – 5:00 chiều
Đóng cửa
Thứ hai (mở cửa vào các ngày lễ), Các ngày nghỉ cuối năm và Các ngày nghỉ đầu năm (từ ngày 29/12 đến ngày 3/1)
Para assistir Vídeos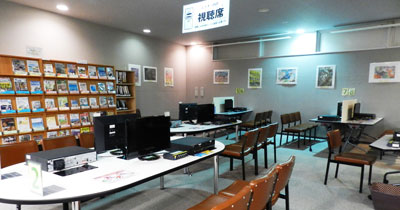 Film Library is equipped with 12 booths in total to view videos and films. Films are available only for on-site viewing.

Reading or borrowing books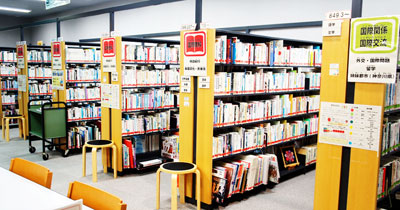 Anyone who lives, works, or goes to school in Kanagawa Prefecture can borrow a book from our Library. Present your Earth Plaza's Rental card* , and you can borrow up to six books for a maximum of three weeks.* When you borrow books for the first time, you must register and get a Rental card issued. Carry your identification with your address.

Returning books
You can return any borrowed books at the reception counter of the Library. When the Library is closed, then put them into the Returning Box located outside of the entrance on the Second floor. * When you borrow books for the first time, you must register and get a Rental card issued. Carry your identification with your address.

Information Forum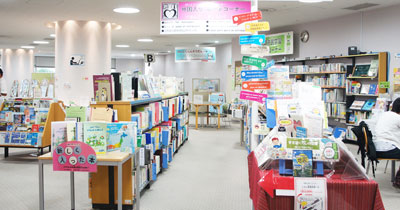 You can read newsletters and magazines about international exchange and cooperation or have a meeting. Phone: 045-896-2977
Open

Tuesday to Friday 9:00 a.m. - 8:00 p.m.

Saturday, Sunday and Holidays

9:00 a.m. - 5:00 p.m.

Closed

Mondays (open on holidays), Year-end holidays and New Year holidays(December 29th through January 3rd).
Global Education Corner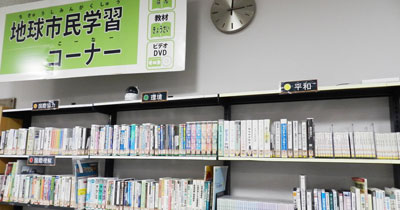 Equipped with practical education materials, audio-visual materials and reference materials for learning about international understanding, the environment, human rights, peace, and media literacy.
Japanese Language Corner/
Multicultural Children Support Corner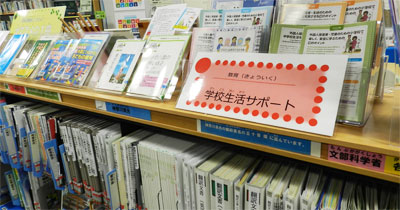 Japanese learners and their supporters can find resources in this corner.Provides educational and other materials which help residents of Kanagawa Prefecture who are foreign nationals.
Helps people to learn Japanese needed for their daily life and occupations.
Helps their children to be successful in school.
Available materials include information about entrance to school for foreign children.
Educational materials,
Teaching aids and dictionaries
Computer software
The curricula of Japanese schools
Parallel translation of school words
Multicultural education materials.

Multilingual Information Corner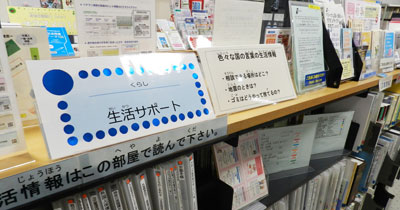 Provides information helpful for daily life in many languages. Materials include life guides issued by the local government, NGOs, and other organizations about medical care, disaster prevention and work . [Main foreign languages covered] Cambodian, Chinese, English, Indonesian, Korean,Laotian, Portuguese , Spanish,Tagalog and Vietnamese.
Forum Space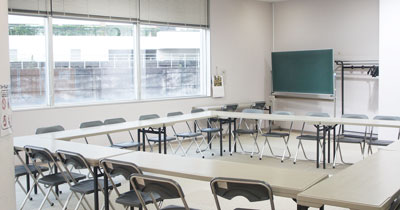 Forum Space is available for NGOs and volunteer organizations involved in international exchange and cooperation activities to hold meetings. NGOs and organizations are required to need registration to apply for using the Forum Space.
Using a bulletin board or leaflet rack
You can use a bulletin board or leaflet rack in the Information Forum to post NGO notices or distribute NGO leaflets. Apply at the Reception Desk to use.
Using a message board
The Information Forum has a message board. Please use it for recruiting members for an international exchange group, inviting participants in an event, and communicating within a group.
Copying service
You can copy any materials found in the Information Forum or books in the Image Library. (Payment\10 yen per page. )
When making a copy, you are under the restrictions of the Copyright Law.
Consultation services
Information and consultation services are available for your NGO or volunteer activities.